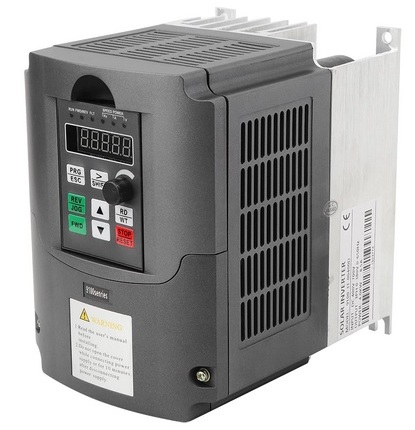 Vector Control frequency converter DC 200V-400V to Three-phase 220V 5.5kw solar pump inverter with MPPT control
220V/5.5KW

Model NO.

WK310-0055-D1T

Input voltage

DC 200V-400V (best for 300V-320V)

or Single phase 220V±15% 50/60Hz

Output voltage

AC Three phase 0-220V 0-650Hz

Power

5.5KW/7.5HP

Rated current

20A

Shape size(mm)

220*148*170

packing size(mm)

280*205*245

Weight

3.6KG
Type selection instructions:
1. Please read the product instructions carefully, choose the type according to the function and power you need, and avoid the damage caused by wrong wiring.
2. This frequency converter can not drive other load types except inductive load such as motor . Please pay special attention to it when purchasing.
3. The total input power of solar DC should be greater than that of photovoltaic converter, and the power of photovoltaic converter should be greater than or equal to the total load power driven by it.
4. The optimum range of DC input voltage can refer to the best input value in the selection table to ensure the most efficient operation of frequency converter and motor. Changing the DC input voltage can be achieved by changing the series and parallel connection of solar panels.
5.5kw Solar Water Pump Inverter with MPPT controller
Product Code: 5.5kw solar pump inverter with MPPT control
Availability: In Stock
Tk.75,000

Ex Tax: Tk.75,000
Related Products
Tags: 5.5kw solar pump inverter with MPPT control, mppt, solar, pump, water, solar