On Grid Tie Inverter 600W 15-60VDC Input 110V/220VAC Output with MPPT Function 99% Efficiency Pure Sine Wave for Solar Energy Systems.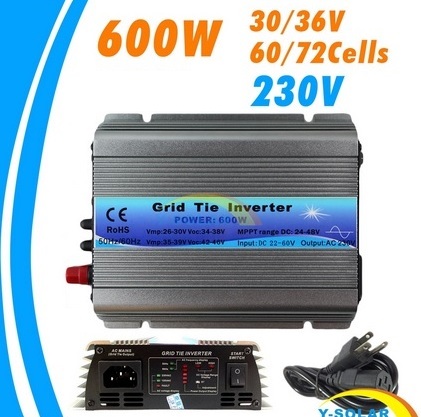 Features

Wide voltage input(15-60VDC)
Achieve wide voltage input.
DC voltage input 15-60VDC
Second level power variable voltage conversion
Kinds of frequency output function.
It can apply to 50Hz and 60Hz frequency of AC.
Frequency range: 45Hz ~ 63Hz
AC 0 angle with high precision auto-detection
AC phase angle of 0 through isolation amplifier then input to the MCU for high-precision detection and analysis. The phase shift rate is less than 1%, thus achieve high-precision with phase modulation AC output together.
Synchronous High-frequency Modulation
1 Modulation synthesis: half wave and full-bridge modulation synthesis (100Hz / 120Hz)
2 Synthetic way: MOSFET full-bridge
3 High frequency: 38KHz
Pure Sine Wave Output
Use SPWM directly to make pure sine wave output.
1 Output waveform: Adopt complementary PWM to push-pull pure sine wave.
2 Generate means: enhancement-mode SPWM
Power Automatically Locked (APL)
In different current fluctuations, we should use the MPPT function. When the MPPT function adjusted to the
maximum power point, the product automatically powers locked in maximum power point, then made the
output power more stable.

Power lock: The biggest sampling point of MPPT.

Automatically Adapt To Different Load Power
The output synchronise with the electrical utility Grid. With a strong back of power grid, any power load can work, such as: Inductive Load; Resistance Load; Condensive Load

Constant Current, Constant Power, Current-limit Protection
The output synchronise with the Power Grid and power phase, and tie to the Power Grid; take the Power Grid as a supplement,make the output current and power are constant,not affect by load, without any overload, over-current phenomenon.

Automatically Shut Down When The Power Output Of a Fault
When the city power system is in failure, the inverter will automatically turn off the output.

Stack Multiple Machines
Multiple small power inverters in parallel can achieve large output power.

High-Frequency High Conversion Rate
Adapt high frequency converter, the output more efficient.

Maximum Power Point Tracking (MPPT) Use battery as power supply, this function is not exist.
Current intensity, voltage constantly changes, if there is no power point tracking, then there will be a lot of problems in the past usually adopted a solar controller, this product uses high_precision MPPT
computing power, automatic and immediate to solar panels output power adjustment in the maximum output point, in order to achieve a stable output purposes.


Grid Tie Inverter 600W
Brand: Nano Power
Product Code: Grid Tie Inverter 600W
Availability: In Stock
Tk.17,500

Ex Tax: Tk.17,500
Related Products
Tags: Grid Tie Inverter 600W, grid tie inverter, inverter, solar, power, energy